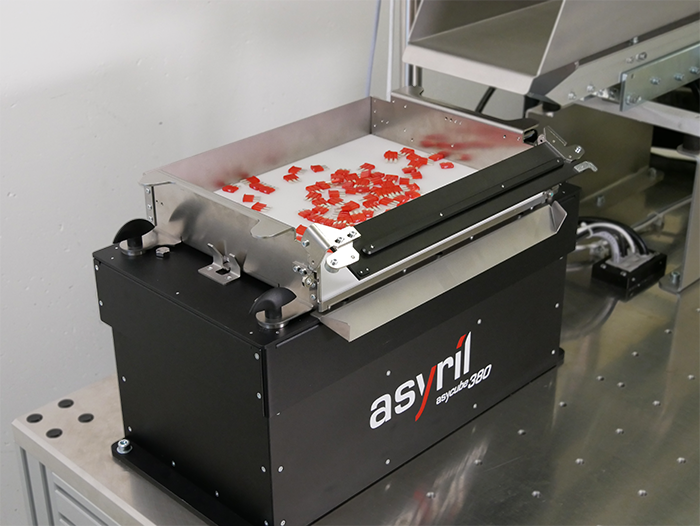 02.10.2020
Asyril SA, the Swiss manufacturer of innovative 3-axis vibration parts feeding systems, is pleased to present its new purging platform for the new generation Asycube 380 and 530 as of November 1st, 2020.
It has always been a priority for Asyril to help companies of all sizes to benefit from automation while increasing the variety of their product offering. In applications where it is necessary to switch from production of product "A" to product "B", rapid changeover is the key to improved productivity. In order to meet this growing demand, Asyril is pleased to offer a purge platform that can be easily integrated on any Asycube 380 and on the new generation 530.
Thanks to the combination of the quick-change platform mechanism and the purge option allowing a simple and quick emptying, Asyril offers an even more flexible and scalable product for a better return on investment.
Different uses of the product
Reduce changeover time:
Quick platform emptying
Avoids handling of parts
No tools required to change platforms
Avoid operator intervention during production:
After the "Pick&Place" of all good parts, evacuate the non-recoverable parts automatically (cutting out waste, tangled parts …)
Product presentation
There are different purge platforms; top frame, bottom frame, left opening and right opening. A metal spout to guide the parts to the receiving area is also included. An electric motor has been integrated to allow the system to operate autonomously once connected to the Asycube.